Head to The Discovery for a hauntingly good time at the 9th annual Halloween Trick or Treat. Visit the museum in costume and trick-or-treat from gallery to gallery. There'll be spooky decorations and delicious treats for all of the friendly or scary ghosts, ghouls and goblins who dare to attend.
Note: For the safety of all visitors, costumes with weapons of any kind are not allowed.
---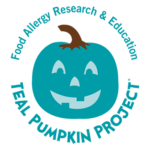 Teal Pumpkin Project
The Discovery's annual Halloween Trick or Treat event takes part in the Teal Pumpkin Project. A number of our trick-or-treat stations will offer non-food items for kids with food allergies, as well as other children for whom candy is not an option.