Bubbles can be fascinating, beautiful and fun. But did you know bubbles can also help you explore scientific concepts such as elasticity, surface tension, chemistry, light, and even geometry? At Bubble Extravaganza, The Discovery's event during the inaugural Northern Nevada Science & Technology Festival, you'll be able to create bubbles of all shapes and sizes and explore the many interesting properties bubbles demonstrate.
Bubble Performer
Be dazzled by artist Kit Huntington, who will be creating spectacular giant bubbles on the plaza at the museum's main entrance from 4:30-7:30.
Geometric Bubbles
Experience math in a hands-on, playful way by using a variety of three-dimensional bubble wands to see what shapes each can make. Here's a hint: the geometric forms may not be what you were expecting!
Bubble Investigations
Explore a variety of hands-on bubble experiments including bubble snakes, bouncing dry ice bubbles, printing with bubbles, and more!
Partner Organizations
Additional hands-on activities provided by UNR Department of Neuroscience, Nevada Division of Water Resources, Nevada State Science Teachers Association, Nevada STEM Ambassador Program, Washoe County Library System, Raggio Research Center for STEM Education and NV Energy.
Food Trucks
Fuel up for an evening of learning and fun with tasty bites available from Food Evolution, Sublime, The Trolley, Rockin' and Rollin' and Java Ship.
---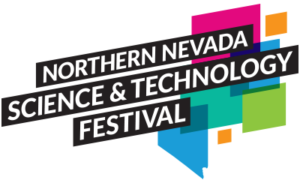 The Northern Nevada Science & Technology Festival is a week-long community celebration of the innovation happening in our region. The festival will inspire and connect our community with the power of science and technology through hands-on school programs as well as a series of free, family-friendly events hosted by well-known formal and informal educational organizations throughout Northern Nevada.