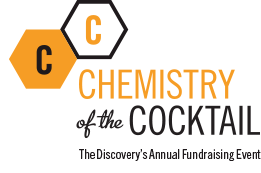 Join A T. rex Named Sue at this year's Chemistry of the Cocktail, The Discovery's premier fundraising event, and prepare for a colossal exploration into the science behind the craft of paleontologically-themed martinis and other cocktails. Add to that delicious fare from your favorite local culinary hot spots, and you have the recipe for a great way to support the museum.
Help raise $100,000 in a single night to support The Discovery's mission to inspire by being the place to experience science.
VIP Ticket — $150
With a VIP ticket you'll enjoy an additional hour (beginning at 5:00pm) of science and spirits including specialty cocktails prepared by the experts from Chapel Tavern and Liberty Food & Wine Exchange, only available to VIP guests. VIP guests will also be treated to a special live performance by Controlled Burn, and have the opportunity to explore the museum, sample tasty bites, preview live auction items, and bid early on silent auction items.